MOBILES, TABLETS, COMPUTERS
Learn to read music easily
and get an High Score !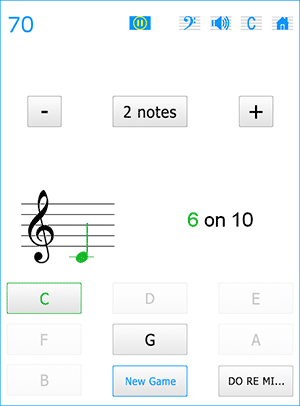 A B C or DO RE MI, facultative COLOR MUSIC NOTES, nothing to download : it's FREE, play NOW !
Designed and used by licensed music teachers, Happy Note! music games don't request any knowledge in solfege or music theory. Both fun and educational, they really teach you to read and ear music notes and make boring music lessons a thing of the past.
Learn really to read music notes... but the fun way !
A fully customizable music game to really learn to read music the fun way !
Use the "Pedagogy" menu and the color music notes to let the game teach you how to read music one note at a time, at your own pace. Or select freely with one click the music notes you want to learn or improve.
You can play and learn the G (Treble) clef and the F (Bass) clef, both in Alphabetical (A B C D E F G) and Syllabic (DO RE MI FA SOL LA SI) musical notation. PLAY - TELL ME MORE
Read and listen the music notes at the same time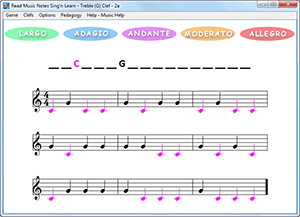 Alone or with Sheet Music Treble Clef and Bass Clef HN (same Pedagogy menu with same Color Music Note System), from 2 music notes, to 17 music notes, 32 progressive musical readings in Treble (G) Clef and 32 progressive musical readings in Bass (F) Clef.
Each musical reading can be practiced at five increasingly fast rates of speed, both for A B C... and DO RE MI... PLAY - TELL ME MORE
An ear training game to learn to recognize the notes you hear
A fully customizable ear training music game to learn to recognize music notes by ear.
Listen to a music note, try to recognize it, and win points if you do ! From 2 to 17 music notes, both in G Treble Clef and F Bass Clef.
Like the game Sheet Music Treble Clef and Bass Clef HN, you can use the Pedagogy menu or select freely the music notes to learn or improve with one click. And there is a "Cartoons" option for children ! - PLAY - TELL ME MORE