Subscribe for free to Happy Note! to learn music the fun way.
We never sell or share your email. You can unsubscribe at any moment with 1 click.
Learn to read music notes
with your mobile phone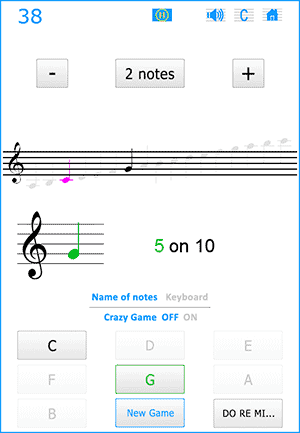 G and F Clefs - A B C and DO RE MI
COLOR MUSIC NOTES
Progressive and fun with High Score
FREE for all devices : Play Now !

MOBILES, TABLETS, COMPUTERS
Learn to read music easily with
C
O
L
O
R
M
U
S
I
C
N
O
T
E
S

2a - 2 music notes with C - DO Color


G (Treble) Clef : C G

- DO SOL


F ( Bass) Clef : C G

- DO SOL

Probably Bach's first attempt at writing out a full harpsichord concerto, this is a transcription of the violin concerto in A minor, BWV 1041, one whole tone lower to fit the harpsichord's range. It seems Bach was dissatisfied with this work, the most likely reason being that he did not alter the ripieno parts very much, so the harpsichord was swamped by the orchestra too much to be an effective solo instrument.
---
---