Subscribe for free to Happy Note! to learn music the fun way.
We never sell or share your email. You can unsubscribe at any moment with 1 click.
Learn to read music notes
with your mobile phone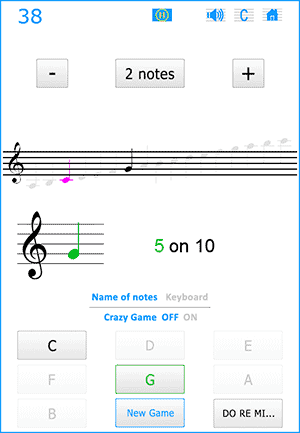 G and F Clefs - A B C and DO RE MI
COLOR MUSIC NOTES
Progressive and fun with High Score
FREE for all devices : Play Now !

MOBILES, TABLETS, COMPUTERS
Learn to read music easily with
C
O
L
O
R
M
U
S
I
C
N
O
T
E
S

2a - 2 music notes with C - DO Color


G (Treble) Clef : C G

- DO SOL


F ( Bass) Clef : C G

- DO SOL

La fille aux cheveux de lin (french title, translation is The Girl with the Flaxen Hair) is a musical composition by French composer Claude Debussy. It is the eighth of the composer's Préludes, Book I (1909-1910).
---
---