Subscribe for free to Happy Note! to learn music the fun way.
We never sell or share your email. You can unsubscribe at any moment with 1 click.
Learn to read music notes
with your mobile phone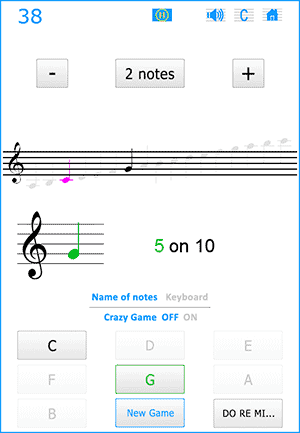 G and F Clefs - A B C and DO RE MI
COLOR MUSIC NOTES
Progressive and fun with High Score
FREE for all devices : Play Now !

MOBILES, TABLETS, COMPUTERS
Learn to read music easily with
C
O
L
O
R
M
U
S
I
C
N
O
T
E
S

2a - 2 music notes with C - DO Color


G (Treble) Clef : C G

- DO SOL


F ( Bass) Clef : C G

- DO SOL

La campanella (Italian : the little bell) is the nickname given to the third of Franz Liszt's six Grandes études de Paganini. Its melody comes from the final movement of Niccolò Paganini's Violin Concerto No. 2 in B minor. - More -

French
---
---
NEW on December 6 for MOBILES and TABLETS :
now with the SOUND OF THE MUSIC NOTES !