Register now to get the list of all the music videos selected by Happy Note!
We never sell or share your email. You can unsubscribe at any moment with 1 click.
Learn to read music notes the fun way with ALL your devices : mobile, tablet and computer
FREE for all devices : Play Now !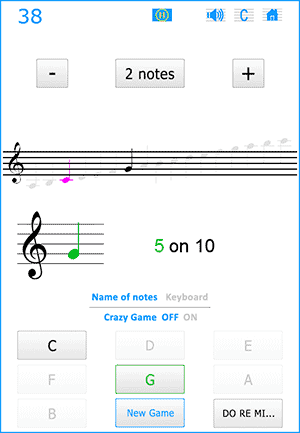 G and F Clefs - A B C and DO RE MI
COLOR MUSIC NOTES
Progressive and fun with High Score
MOBILES, TABLETS, COMPUTERS
Learn to read music easily with
C
O
L
O
R
M
U
S
I
C
N
O
T
E
S

2a - 2 music notes with C - DO Color


G (Treble) Clef : C G

- DO SOL


F ( Bass) Clef : C G

- DO SOL

The piano sonata in D major for two pianos was composed in 1781 for a performance Mozart would give with fellow pianist Josephine von Aurnhammer. It's composed in the galant style, with interlocking melodies and simultaneous cadences. This is one of his few compositions written for two pianos.
---
---
REGISTER FOR FREE TO GET ALL THE MUSIC VIDEOS