Subscribe for free to Happy Note! to learn music the fun way.
We never sell or share your email. You can unsubscribe at any moment with 1 click.
Learn to read music notes
with your mobile phone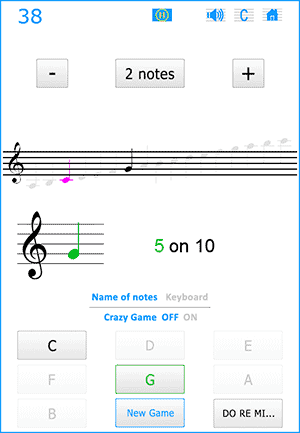 G and F Clefs - A B C and DO RE MI
COLOR MUSIC NOTES
Progressive and fun with High Score
FREE for all devices : Play Now !

MOBILES, TABLETS, COMPUTERS
Learn to read music easily with
C
O
L
O
R
M
U
S
I
C
N
O
T
E
S

2a - 2 music notes with C - DO Color


G (Treble) Clef : C G

- DO SOL


F ( Bass) Clef : C G

- DO SOL

Maurice Ravel's Piano Concerto in G major was composed between 1929 and 1931. The concerto is in three movements and is heavily influenced by jazz, which Ravel had encountered on a concert tour of the United States in 1928.
---
---