Register now to get the list of all the music videos selected by Happy Note!
We never sell or share your email. You can unsubscribe at any moment with 1 click.
Learn to read music notes the fun way with ALL your devices : mobile, tablet and computer
FREE for all devices : Play Now !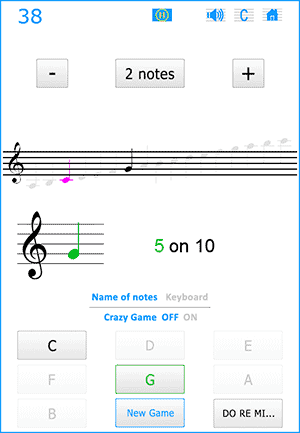 G and F Clefs - A B C and DO RE MI
COLOR MUSIC NOTES
Progressive and fun with High Score
MOBILES, TABLETS, COMPUTERS
Learn to read music easily with
C
O
L
O
R
M
U
S
I
C
N
O
T
E
S

2a - 2 music notes with C - DO Color


G (Treble) Clef : C G

- DO SOL


F ( Bass) Clef : C G

- DO SOL

Composed in 1894, this etude features many technical challenges including treacherous stretches with intervals up to an eleventh, numerous jumps in the left hand, repetitive chord strikes, and abundant octaves.
---
---