Index # Training with Read Music Notes HN
---
---
The 2a Musical Reading below is the first Musical Reading (there is no 1a Musical Reading, select Index to see all readings). If you don't understand what you see, read about the 5 lines and 4 spaces of the staff and how the G (Treble clef) fixes the name of the music notes.
There are only 2 different music notes on the staff, the DO in color and the SOL in black (I want to use C G). Say or sing the name of each note you hear EXACTLY AT THE SAME TIME as you hear it, no sooner, no later. Too easy ? Use the NEXT link to see what happen in the 2b Musical Reading ! I have a question
2a - _ _ DO _ _ _ SOL _ _ _ _ _ _ _ _ _ _
Free training game with the same music notes !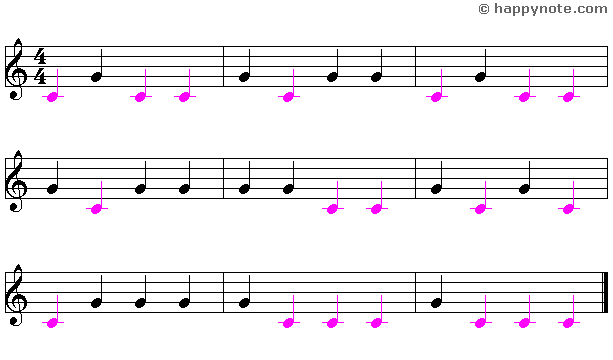 DO

SOL

DO

DO

SOL

DO

SOL SOL
DO SOL DO DO
SOL

DO

SOL SOL
SOL SOL

DO

DO

SOL

DO

SOL

DO

DO

SOL SOL SOL
SOL

DO

DO

DO

SOL

DO

DO

DO
---
---