Free Online - Mobile Friendly
From 2 to 17 music notes, wiht A B C D E F G or DO RE MI FA SOL LA SI, 32 progressives Musical Readings with COLOR MUSIC NOTES to learn to read music easily and quicky !
Learn to read
music notes the fun way !
Both for complete beginners or for people wanting to improve their reading music skill, a fully customizable professional music game, used by children, adults and music school, in the world wide. You can REALLY learn to read music notes and have fun at the same time !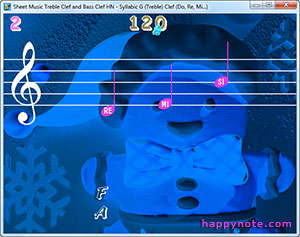 Download Venice Carnival Wallpapers (Windows 10, 8, 7, Vista, XP)
Venice Carnival Wallpapers pictures are reserved to Sheet Music Treble Clef and Bass Clef HN registered users: the registration code for this software is required during installation.
50 free Venice Carnival pictures to use as background with Happy Note! educational games to learn to read music the fun way, Sheet Music Treble Clef and Bass Clef HN and Tetris Music Notes HN.